Shelling out: Len Lye's experiments in animations
28 Oct 2023 - 28 Apr 2024
Shelling out explores the often-overlooked stop motion animations of Len Lye - Experimental animation (1933) and Birth of the Robot (1936) - to showcase the immense versatility in Lye's early practice. 
Sitting in the shadow of Lye's acclaimed direct animated abstract films, Experimental animation (1933, also known as The Peanut Vendor) and Birth of the Robot (1936) demonstrate the versatility in Lye's practice during the 1930s alongside his own artistic flair operating in a commercial filmmaking world.
Shelling out digs deep into the Len Lye Foundation archives to illuminate these films and their production. The exhibition explores the independently produced The Peanut Vendor as a calling card for Lye's talents as an animator with his figure on the musical pulse. Produced three years later, The Birth of the Robot delivered on Lye's commercial potential as a director, to deliver a fantastical science fiction adventure for the Shell Oil Film Unit.
Together, these films capture Len Lye putting his artistic stamp to the golden age of animation.    
Curated by Megan Denz, Assistant Len Lye Curator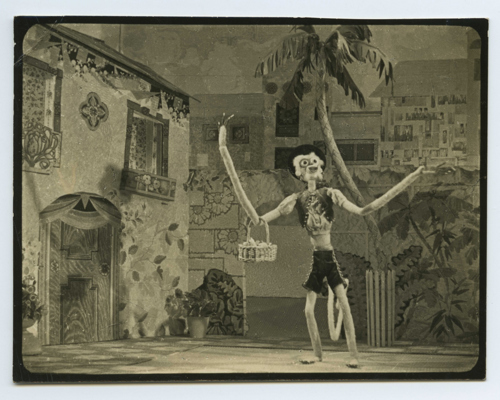 Len Lye, Experimental Animation (Peanut Vendor), 1933. Courtesy of the Len Lye Foundation. From material preserved and made available by Ngā Taonga Sound & Vision.