The George Mason Visual Arts Scholarship 2018 recipient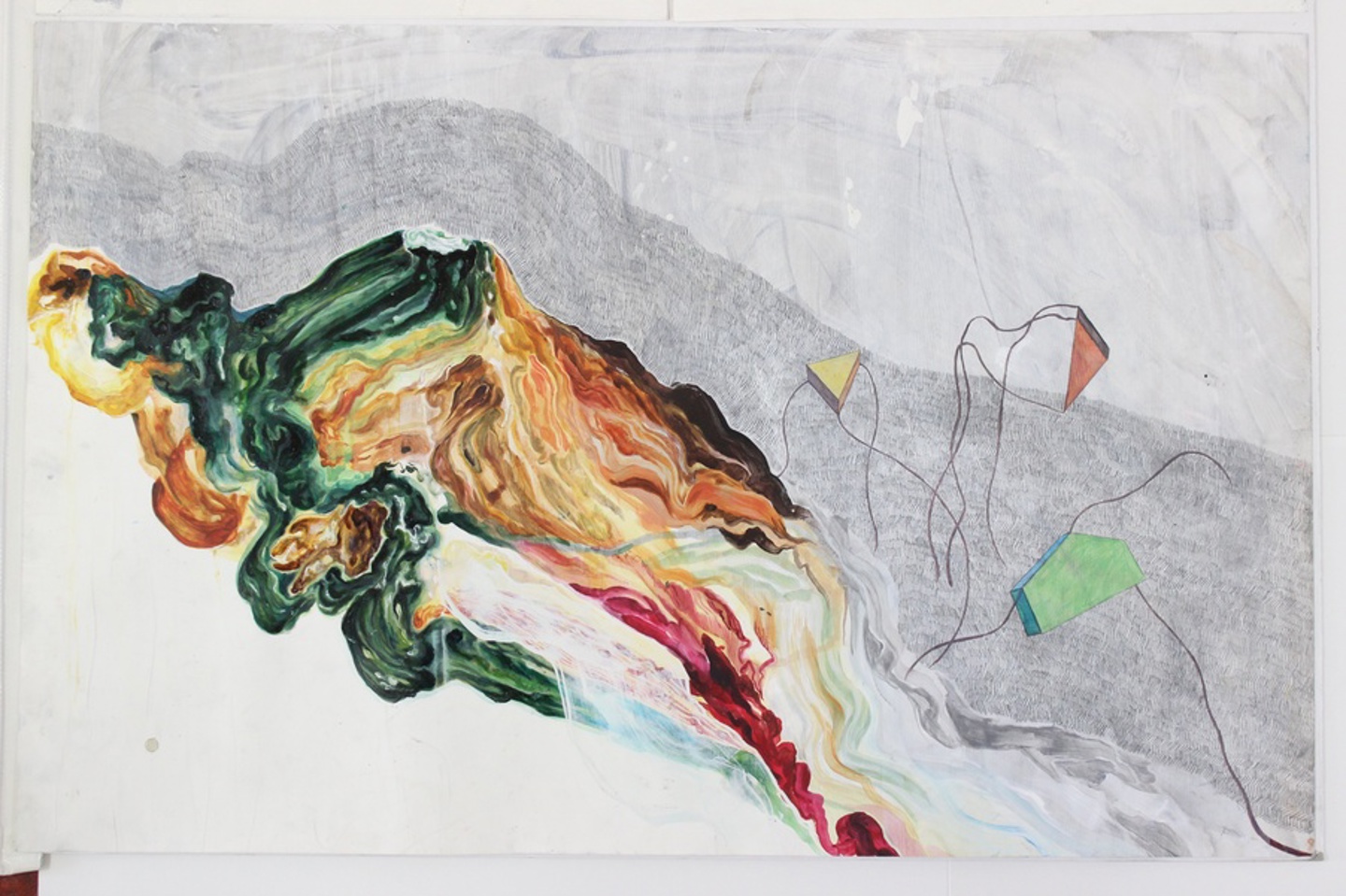 "Ever since last year, I have become very interested in mountains and landscapes for some reason. Before this, I really disliked drawing all of the individual trees and detailed plants and bush, but last year when I was advised to download Pinterest to find artist models, I came across some photographs of ice and glaciers. I felt drawn to the icy colour palette and the glaze type texture of ice and snow. This lead to some more exploring on Pinterest where I discovered my liking for landscapes and mark-making that could be made to represent the terrain, weather and textures. I experimented with print making, acrylic paint, crayons, and colours that I thought would nicely accent the more organic colours of nature. With these ideas in mind, I also began to think about our relationship with these landscapes and the environmental consequences of our presence on earth. The changes in how humans value nature is intriguing to me.
My main work is an abstracted mountain range that features stylistic elements of ice, snow and clouds. The colours are intensely pigmented – not representative of an actual mountain range, however are found in rocks, sand and fauna. The mountain ranges were painted as though they were smooth, icy curves of a glacier, as this is what first attracted me to landscape and with this, I intended to portray an untouched landscape, free from exploitation. Behind it, a textured sky of cloud, with a silhouette of some more ranges with grass or bush. To the right, some geometric shapes which represent the industrial and modern technology that we, as humans, have built around and into nature. The technological and human development have been rooted into the mountain ranges, creating a juxtaposition. Nevertheless, it is this way in the real world; our buildings and cities are 'rooted to the ground', that is, until an earthquake or some other natural disaster occurs.
However, my questions still remain. The environment helps us to feel more connected to life, but as our relationship with it has changed so drastically since primitive ages, what does this mean for nature and how can I demonstrate this through art?
I consider myself to be a creative thinker. I do enjoy maths (when I understand it), and science definitely interests me but ultimately I would like to study a more creative course. In 2019, I plan to study in Wellington at either Massey or Victoria University, majoring in Design. I am concentrated on Media Design, however am yet to make a final decision. I chose Design because I believe that I would find fulfilment in designing and creating projects that impact the user's experience, and I am excited for future challenges that will arise. I think that as a society, we need to realise the importance of the intention and process of the objects and visuals created for our everyday use. These things have effect on our mood and experiences, and I would like to be part of the creation."