Residency programme welcomes Indigenous Artists from Taiwan
We're committed to connecting people, communities and cultures to encourage critical dialogue about the world we live in. Aligned to this, we announce the first of our 2023 artist residencies, in partnership with the Cultural Division, Taipei Economic and Cultural Office in Sydney and supported by Creative New Zealand and Kaohsiung Fine Art Museum.
The residency will see indigenous Taiwanese artists Arac Orat, Malay Makakazuwan, Lafin Sawmah, and Eleng Luluan undertake a two-week residency in Aotearoa. The Gallery has developed a programme to provide the artists with an understanding of the bicultural reality of Aotearoa, explore contemporary Māori art, meet tangata whenua in Taranaki and Ngāmotu, and understand the context of the Gallery and its 50+ year legacy.
"The residency is part of our commitment to the continuous development of audience experiences and building the understanding of contemporary cultures based in generating relationships for artists, and is the first stage toward an exhibition at the Govett-Brewster in 2024," says Gallery Director Zara Stanhope.
"This durational project aims to build artist knowledge, understanding and networks and create new experiences and dialogues between Indigenous artists and understanding of Indigenous art."
"We have developed a comprehensive residency programme that will build connections with creative and cultural practitioners throughout Aotearoa, as well as providing a rich understanding of Taranaki's bicultural history," Zara says.
The residency will take place between 21 February and 4 March 2023, and span Ngāmotu, Te Whanganui-a-Tara, Whangarei, Waitangi, and Tāmaki Makaurau.
The Govett-Brewster has developed numerous connections with artists from Southeast and South Asia, bringing many exhibitions to audiences in Aotearoa with the support of external partners, including Media Arena: Contemporary art from Japan (2004), Transindonesia (2005), Activating Korea (2007), New Nature (2007), China in Four Seasons (2009), Sub-Tropical Heat: New Art from South Asia (2012), Korean artist Haegue Yang: Triple Vita Nestings (2018); and Japanese artist Yuichiro Tamura who presented Milky Mountain (2019).
This project is generously supported by the Cultural Division, Taipei Economic and Cultural Office in Sydney, Creative New Zealand through the Kahikatea programme, and Kaohsiung Fine Art Museum.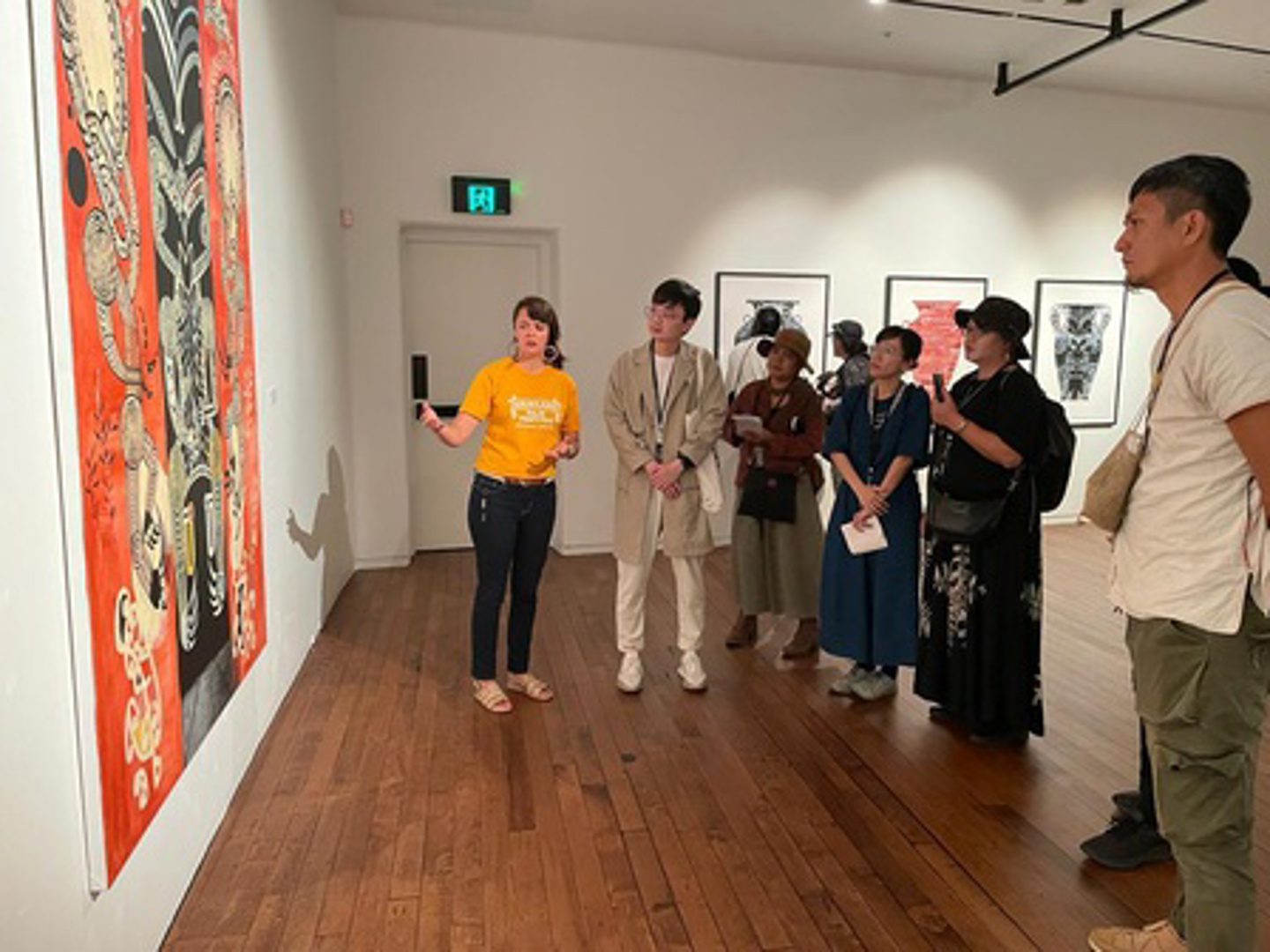 Artist information
Akac Orat (Amis/Puyuma)
Akac started his curating practice as an art critic while at the graduate school of Taipei University of Art. He co-founded PingPong ArtSpace and has curated several experimental exhibitions including Tag Alley; Unconditioned Miscellaneum; Live Ammo (Taipei Moca). He works with artisans and amateurs through exhibitions and projects situated in daily life and has immersed himself in the research of rattan craftsmanship to become a holder of this knowledge.
Malay Makakazuwan (Pinuyumayan)
Malay Makakazuwan is a Pinuyumayan artist from the Pinaski Village in Taitung, whose early work responded to living and working in the city as a young indigenous woman. In 2012, she won the Grand Prize of the Austronesian International Arts Award and was selected for an on-site creation for the Taiwan East Coast Land Art Festival in 2015. In 2016, she won the Excellence Award of the Austronesian International Arts Award with her work Vetsik. In 2018, she worked with TAI Body Theater to create her Migration-Territory-Identity series, broadening her installation art to different dimensions.
Lafin Sawmah (Amis)
As an Amis person of the Ciwkangan community in Taitung County, Lafin studied wooden sculpture with famous Indigenous artists including Siki Sufin, Rahic Talif and Za Num in his early practice. In 2009, he returned to Taitung with his wife Heidi Yip and established their workshop Laboratory Gallery. His practice aims to counter consumerism, and the imbalances for indigenous culture and peoples' environments today. His wooden carvings - often using found driftwood - range from functional wares to symbolic and conceptual large-scale installations.
Eleng Luluan (Rukai)
An installation artist and environmental sculptor, Eleng Luluan was nominated for the tenth Taishi Arts Award competition in 2011, and in 2012 was invited to attend an artist residency programme in New Caledonia and participated in the joint exhibition Beyond the Boundary: Contemporary Indigenous Art of Taiwan. In the same year, she had her first solo exhibition Fractures in the Memories of Life: Silently Awaiting. Adhering to the concept of getting close to nature, Luluan uses natural and manufactured materials, constructing and deconstructing mixed-media materials, whose tensile and conceptual strength challenges gender identities, discourses of settler-colonial situations, diasporic, migrant, and other histories of Indigenous ways of knowing in contemporary art. Her deeply intuitive process of sculpture is poetic and critical.